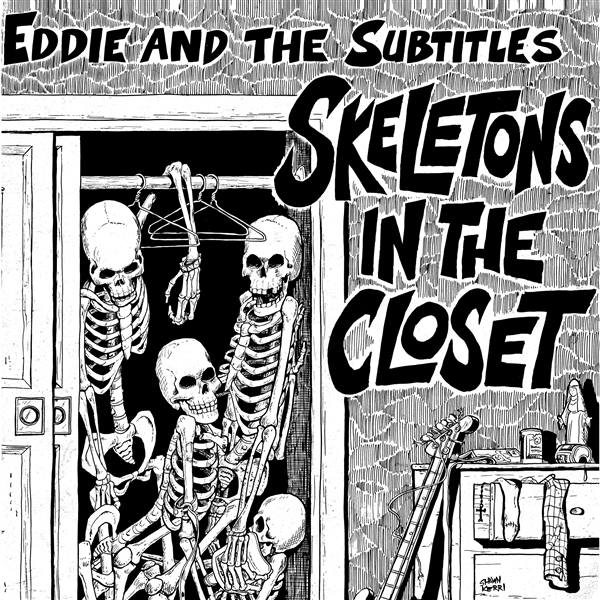 1 - EDDIE AND THE SUBTITLES - SKELETONS IN THE CLOSET - (LP)
SLOVENLY

Its 1980 in Orange County, California, and PUNK ROCK has been scorching the burbs for a few years. Eddie Joseph has been on the Southern California scene the entire time, plotting his poisonous rocknroll maneuvers since the mid 1960s when he began playing in garage bands. Eddie had been honing his skills on roots music and swinging teenbeat well in advance of his foray into a new, seedy, violent punk blitzkrieg. Theres a master plan at work here, and it involves select players depending on which direction Eddie needs to bleed out of his system. The recruitment of Mike Patton and Matt Simon of OC legends THE MIDDLE CLASS get Eddie and the Subtitles rolling for a slew of shows with comrades BLACK FLAG, ADOLESCENTS, CIRCLE JERKS and every other degenerate crew in the radius. A DIY imprint called No Label Records is formed (with literally NO LABELS on the vinyl!) and the first single "Fuck You Eddie!" is unleashed. Recorded in Fullerton by Jon St. James at his legendary Casbah studio (THE VANDALS, SOCIAL DISTORTION, BERLIN), these sessions also yielded a handful of tracks that would appear on the exceedingly rare "Skeletons In The Closet" LP (No Label Records, 1981). "Zombie Drug Killers," "No Virgins In Hollywood," and "American Society" (the short fast loud version covered by L7) appear here as the opening trio on this newly re-sequenced reissue. Geza X is also on board to produce a handful of tracks with peripheral Subtitles including Nicky Beat (GERMS, WEIRDOS) among the sessions players. The results here are another manifestation of Eddies one true love. Even as a punk allegiant, songwriting, sound and style are the priority. The dusted and dark goth-pop of "Magic" and "Stream of Consciousness" are crucial to the plot, setting a unique tone that works in a sea of one-dimensional scene releases, taking full advantage of Gezas synth-mimicking microtonal guitar techniques. A tribute to Dave Dacron, chief miscreant of Dangerhouse Records RHINO 39 is also set to tape as consolation to X, as Dacrons 16 year old life was tragically cut short in an automobile accident in 1980. But the party rocks on with covers of "Louie Louie" (also appearing on the elusive "Fuck You Eddie!" single) and "We Gotta Get Out of This Place," as a testament to Eddies obsession with the timeless now-sounds of his delinquent adolescence. Friends and fellow freaks Jon Blair (of surf cats Jon and the Nightriders) and Bobby Paine (later of rockabilly hepsters The Paine Brothers) lend their own song-smithery for four more originals: "Boppin Little Bobcat, ""Treat me Right," "Gina" (covered in 1984 by Josie Cotton and again in 89 by Stray Cats) and "Your Heads In The Right Place," respectively. "Skeletons In The Closet" remains an unusual and rare artifact in the ashtray world of punk, DIY and outsider music, and Slovenly Recordings is blasted to present it to the world one more time.

TRACKLISTING: 01. Zombie Drug Killers 02. No Virgins In Hollywood 03. American Society 04. Boppin' Little Bobcat 05. Gina 06. Magic 07. Stream Of Consciousness 08. We Gotta Get Out Of This Place 09. Louie, Louie 10. Movin' On 11. Child Sin 12. Dave Dacron 13. Treat Me Right 14. Your Head's In The Right Place 15. American Society

Les personnes qui ont commandé cet article ont aussi commandé SEX PISTOLS, JOLT, THE -FEAT. KYM BRADHAW-, MOONEY, EDDIE -AND THE GRAVE-, REPLACEMENTS, THE, ...

Format: LP

Disc Quantity: 1
Date: 01-07-2022
Référence : 557068
Disponibilité: EN STOCK

Prix : 16,25 EUR