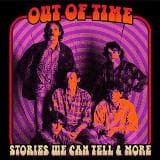 2 - OUT OF TIME - STORIES WE CAN TELL & MORE - (CD)
AREA PIRATA

Another amazing band is now back from the grave! Out Of Time were part of the 'neo-Sixties' underground movement during the mid-80s in Italy and were included in the legendary Eighties Colours compilation. Their short artistic life didnt prevent the band to release a great album called "Stories We Can Tell" and share the stage with some of the most talented international bands of that time such as Long Ryders, Dream Syndicate, Smithereens, Go Betweens, That Petrol Emotion, Doctor and The Medics, Naked Prey... This release includes their never reissued album "Stories We Can Tell" (1985) and many bonus tracks. Any track has been remastered from the original source. CD comes out with a rich booklet including unseen photos, reviews and interviews.

TRACKLISTING: 01. Take My Time 02. When I Will Be Gone Away 03. One More Chance 04. It's Only A Song For You 05. I Can Ride 06. Bye Bye Friends 07. Brian's Black Night 08. Thirthy Days On The Road 09. Time 10. Have You Seen The Light Tonight 11. A House Is Not A Motel 12. Walkin In A Spanish Land 13. Untitled 14. Untitled#2 15. I Can Ride (live) 16. Bye Bye Friends (live) 17. It's Only A Song For You (live) 18. Have You Seen The Light Tonight (live)

Les personnes qui ont commandé cet article ont aussi commandé CLASSMATES, THE, NIGHT SHIRTS, ZEBRA HUNT, D.O.A., ...

Format: CD

Disc Quantity: 1
Date: 01-04-2015
Référence : 474225
Disponibilité: 2/3 SEMAINES

Prix : 14,00 EUR