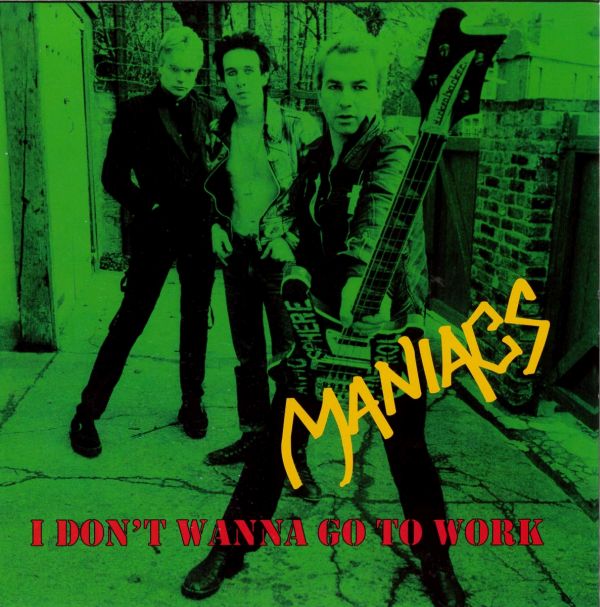 1 - MANIACS - I DON'T WANNA GO TO WORK - (7")
NDN

Having released the now classic and much sought after "Chelsea 77" single on United Artists in 1977, the Maniacs soon imploded. Now, some 42 years later, the bands second single is about to hit the public. It features two absolute killer punk tunes, both unreleased in any form until now.The track on the A side, "I Don't Wanna Go To Work", was recorded by the Maniacs in 1977 to feature in a punk rock short film called Punk Kebab. This song shows the band as it was, Raw, Raucous and Snotty in those heady and glorious days of the 1977's UK Punk Rock Explosion. This is nothing but a true lost punk nugget that will now finally see the light of day.The B side track, "White Light/White Heat", is a live recording of the Velvet Underground classic. It dates back to 1976 when Alan Lee Shaws (guitar/vocals) love of simple stripped down brash in-your-face rock and roll of the MC5, Stooges, New York Dolls and the Velvet Underground prompted him and his fellow Maniacs to seek their fortune on the club/pub rock circuit in a 1976 London that was still badly infected with the ponderous overblown navel gazing progrock. Enjoy!

TRACKLISTING: 01. I Don't Wanna Go To Work 02. White Light/white Heat

Les personnes qui ont commandé cet article ont aussi commandé COWBOYS, THE, POWERSOLO, ORBISON, ROY, PRIORS, ...

Format: 7"

Disc Quantity: 1
Date: 12-04-2019
Référence : 524054
Disponibilité: EN STOCK

Prix : 10,00 EUR
3 - MANIACS - THE WHITE ROSE OF RESISTANCE - (LP)
MAD BUTCHER

TRACKLISTING: 01. Salute The Survivors 02. Strange Career 03. Comancheros 04. Glory Men 05. Young Blood 06. Gimme The Bullet 07. The White Rose 08. Deutschland 09. Tear Down The Wall 10. Legions Of Disillusioned 11. Consentions Objector 12. Dust Of A Decade



Format: LP

Disc Quantity: 1
Date: 02-07-2021
Référence : 549782 NEW
Disponibilité: 2/3 SEMAINES

Prix : 15,00 EUR