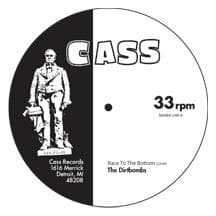 1 - DIRTBOMBS, THE - RACE TO THE BOTTOM - (12")
CASS

The record no one wants to hear! They took a poll of the Dirtbombs fan base on their likes and dislikes and cooked up the exact opposite of what they're looking for. Enjoy 23 excruciating minutes of aimless, meandering synthesizer noodling. You thought the six minutes of this song on We Have You Surrounded was painful? This 12" makes ear-bleeding seem like a blessing in comparison. They want to call this limited, but if we can convince more than 500 suckers out there to buy this than we will certainly make more.

Les personnes qui ont commandé cet article ont aussi commandé DARK CARNIVAL, ...

Format: 12"

Disc Quantity: 1
Date: 01-02-2010
Référence : 405119
Disponibilité: EN STOCK

Prix : 10,50 EUR