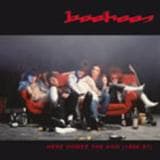 1 - BOOHOOS - HERE COMES THE HOO (1986-87) - (CD)
SPIT-FIRE

Around the middle of the controversial 1980s, in the so-called Belpaese of Italy there were still many who doubted that rock music could really come from the guitar strings of our own musicians. Despite strong evidence, especially in the punk / new wave scenes, the fi rst thing that anyone looked at was your genetic and cultural predisposition to live genuinely and intensely, and not your ability, or lack of ability, to play that dirty, aggressive and grating R&R that had its roots in the Detroit of MC5 and the Stooges, with a nod to the Big Apple of the New York Dolls, the Heartbreakers and the Dead Boys, while also dipping into British glam rock. When the Boohoos made their first demo tape, "Bloody Mary", in the summer of 1986, many sceptics raised white flags of surrender. Someone wrote, "The cursed rock is at home even in Pesaro. The lessons of Iggy, with the crudeness of traditional garage and the psychedelic convulsions and re-elaborations of its roots, or all this together, in a sound that is both raging and refined."And today, twenty years later, Spit/Fire (a sub-label of Spittle), has finally compiled all this in an unbelievable CD, which includes their fi rst demo, first mini-LP and first LP.

TRACKLISTING: 01. Bloody Mary (unreleased) 02. Nancys Throat 03. Ghostdriver 04. Downtown Train 05. My H.e.l. 06. Oh You Mandrax 07. Meet Us (in St.louis-louie) 08. The Hoo 09. When I Come Home 10. T.v. Krooger 11. Maybe Baby 12. Getaway 13. Freedom 14. Search And Destroy 15. T.v. Krooger (demo) 16. Meet Us (in St.louis-louie) (demo) 17. Freedom (demo) 18. Bloody Mary (demo)

Les personnes qui ont commandé cet article ont aussi commandé TEENAGE BOTTLEROCKET, STEVE & THE JERKS AND ANTEENAGERS M.C., UNCONTROLLABLE URGH, WHITE WIVES, ...

Format: CD

Disc Quantity: 1
Date: 15-02-2009
Référence : 394830
Disponibilité: EN STOCK

Prix : 10,75 EUR