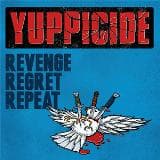 1 - YUPPICIDE - REVENGE REGRET REPEAT - (CD)
DEAD CITY

Jesse Jones (vocals): "Revenge Regret Repeat is a rowdy, angry punk record, and I'm proud that we havent mellowed with age. The lyrics are about facing your demons, past or present, and the one staring back at you in the mirror. I believe that forgiveness is giving up hope for a better past, but sometimes you just cant let go until the fuckers pay what they owe!"Steve Karp (guitar): "I cant wait for people to hear this album. Everybody came together and put in 120% to make it a rock-and-roll-killing-machine of a record. Taken in its totality, I think RRR really is Yuppicides love letter (and not the Dennis Hopper love letter) to underground music, more specifically to hardcore punk. The music, the lyrics, the art; it all reflects our 30 or so years of being involved with this music- it made us the people we are today and this album shows that. It stands with the rest of our catalog and really shows us as a honed unit, full of anti-establishment venom, biting wit and brutal introspection. Its an album that doesnt compromise in its rawness or ferocity. Whether youve been following us since 1988 or this is your first time hearing Yuppicide, prepare your ears for a thorough beating."

TRACKLISTING: 01. Spread The Infection 02. Sabotage 03. Youre Gonna Get It 04. Hurts To Know 05. Bad Blood 06. Political Game 07. Obsolete 08. Insolence 09. Ghosts 10. King Of The Dicks 11. Destroyer

Les personnes qui ont commandé cet article ont aussi commandé ADOLESCENTS, D.O.A., ASSHOLEPARADE, I OBJECT, ...

Format: CD

Disc Quantity: 1
Date: 18-12-2015
Référence : 483762
Disponibilité: EN STOCK

Prix : 18,00 EUR