1 - BORIS THE SPRINKLER - SUCK - (CD)
GO KART

Album from Heartland America's unquestionably lamest act. 13 hi-larious jaunts through the laundry basket of punk, new-wave and bubblegum pop. Nutty is as nutty does.



Format: CD

Disc Quantity: 1
Date: 15-02-1999
Référence : 314946 NEW
Disponibilité: 2/3 SEMAINES

Prix : 11,00 EUR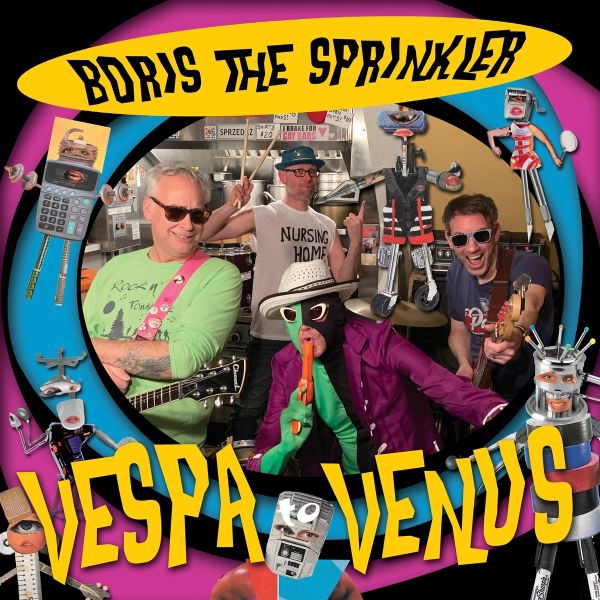 2 - BORIS THE SPRINKLER - VESPA TO VENUS - (LP)
BEER CITY

BEER CITY SKATEBOARDS AND RECORDS is proud to bring you Vespa To Venus THE FIRST NEW BORIS THE SPRINKLER ALBUM IN ALMOST TWENTY YEARS! Reuniting the classic Mega Anal lineup of the band - Paul #1, Paul #2, Ric Six, and the spastic, fantastic, and strangely elastic Rev. Nrb - Vespa To Venus delivers sixteen daisy-fresh, newly-recorded, bouncy-ass punk tunes "thatll have you tapping your head and her sources of oppression! Ranging from standard punk ravers ("I Tell Ya! Tonight! Tonight!") to the sublime ("My Cocks On Drugs") to songs embracing the fundamental stupidity of rock n roll ("Bippy"), Vespa To Venus is certain to either restore or utterly destroy your faith in mankind. Maybe both!

TRACKLISTING: 01. I Tell Ya! Tonight! Tonight! 02. (she Got Da) Wonk Shicky-shicky Wonk Wonk! 03. (what Did The) Dog Do Now 04. Bippy 05. Gamma Ray Girl 06. Rock & Roll Tangerine 07. Spider Baby 08. Bang Shang-a-lang_ri-la 09. Screaming Sister Cyanide 10. (when We Wore The ) Haircuts (we Were The Ones) 11. Have You Made Lunch For Me Lately? 12. My Cocks On Drugs! 13. (it Should Be Noted Ive Been) Stayin On The) 13th Floor 14. Wip Wap Woo 15. Working Class Kree 16. Mop This Joint

Les personnes qui ont commandé cet article ont aussi commandé CONTROL FREAKS, THE, MEAN JEANS, THE, SWEET THINGS, THE, VIBRATORS, ...

Format: LP

Disc Quantity: 1
Date: 13-09-2019
Référence : 535415
Disponibilité: 2/3 SEMAINES

Prix : 22,75 EUR