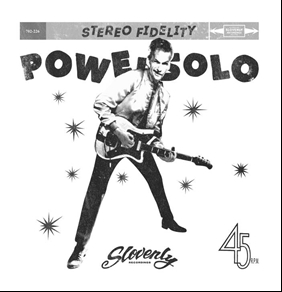 1 - POWERSOLO - TRANSFIXING MOTHERFUCKER EP - (7")
SLOVENLY

Weve been jonesing for some thin white rails for a spell, but we never thought wed get them in the form of the the Railthin Brothers, also known as Kim Kix and The Atomic Child, best known as Denmarks POWERSOLO! Youve seen them mucking it up in the outrageous, viral video for "Boom Babba Do Ba Dabba," or maybe even live as the backing combo for JON SPENCER or ANDRE "Mr. Rhythm" WILLIAMS, and maybe youll catch them on tour in 2019 in support of their new Slovenly 7inch "Transfixing Motherfucker!" Theres a crazy punker on the flipside featuring our friend and yours, Mr. Mads Stobberup, with the mongoloid "Nedtur" (sung in Danish), and as the premier A-side feature, we have "Backstab," which in true POWERSOLO fashion sounds like Alan Vega blasting as the soundtrack to the carousel ride in John Wayne Gacys fantasy carnival.

TRACKLISTING: 01. Backstab 02. Nedtur (feat. Mads Stobberup)

Les personnes qui ont commandé cet article ont aussi commandé COWBOYS, THE, ORBISON, ROY, PRIORS, VARIOUS, ...

Format: 7"

Disc Quantity: 1
Date: 08-02-2019
Référence : 523705
Disponibilité: EN STOCK

Prix : 7,75 EUR