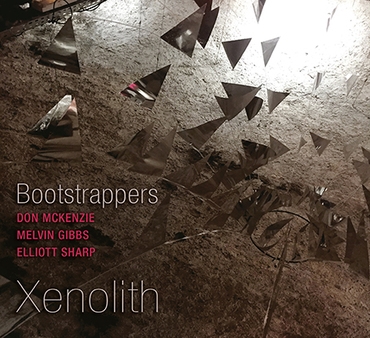 1 - BOOTSTRAPPERS - XENOLITH - (CD)
KLANGGALERIE

Bootstrappers are Elliott Sharp, Melvin Gibbs & Don McKenzie.Bootstrapping manifests a self-organising sonic system from nothing. The seed is the impulse, the mechanism is improvisation.Bootstrappers is the name for Sharp's improvising rock trio.This latest edition of the group features longtime collaborators Melvin Gibbs on electric bass, drummer Don McKenzie, and Elliott Sharp on 6 & 12-string guitars and electronics.The music reflects the classic rock trio filtered through the ethos of cyberpunk, techno, and free jazz: raging, psychedelic, and filled with fantastic extrapolations. One may hear strains of Jimi Hendrix "Band Of Gypsies", Bela Bartok string quartets, and Ornette Coleman'sharmolodics.

TRACKLISTING: 01. Telentelechy 02. This Magnetic Moment 03. Harmolalia 04. Seize The Mement 05. Lo Shu 06. Astrocytes 07. Unklettled.



Format: CD

Disc Quantity: 1
Date: 03-12-2021
Référence : 552338 EXP
Disponibilité: EN STOCK

Prix : 17,00 EUR