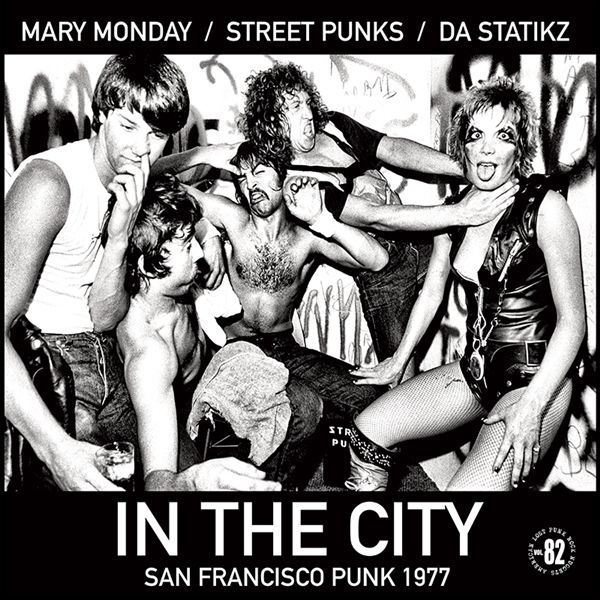 1 - MARY MONDAY/STREET PUNKS/DA STATIKZ - IN THE CITY - (LP)
RAVE UP

Fans of the 'Killed By Death' compilation series will no doubt be familiar with "Popgun" which features some of the greatest unhinged punk lead guitar of the era, complete with that airtight rhythm section, its a shot of pure, snot-caked crotch punch that you wont be able to shake from your head for days.This antholgy contains their amazing 7" 'PopGun/"Oh Rickie you took my razor blaaade'. One of the greatest west coast punk singles of the first wave.Former stripper Mary Monday had a life shrouded in mystery, and conflicting reports in the historic documentation as to the band and Marys origins are still baffling punkologists to this day, including her mysterious death a few years after this singles release. As legend goes, she arrived in San Francisco from Vancouver in 1976 with green hair and put together a band that played around the Filipino cabaret scene at the Mabuhay Gardens in 1976. And in August of 76 when The Ramones made their first West Coast appearances, the opening band for their big San Francisco debut show upstairs at the Savoy Tivoli was Mary Monday & the Bitches. Later on, Mary met up with the Street Punks, with whom the tracks on this single were penned by. The Street Punks would play shows as a separate unit (and eventually part ways), but with the blinding punk guitar screech acing up and down both sides of this classic single, this is where the planets aligned and such an epic formative sound was created, aged even better with time. The album contains their studio material and Don Lamb's Da Statiks.Album ltd. To 300 copies only.

TRACKLISTING: 01. Popgun 02. Teenage Teaser 03. Leave Us Alone 04. Suburban Boredom 05. Peace And Flowers (are Dead) 06. Leave Us Alone 07. Goin' To The City 08. T.v. Time 09. Cheap Girls 10. Get Outta' My Way

Les personnes qui ont commandé cet article ont aussi commandé NEEDLES//PINS, MADCAPS, THE, IMPOSIBLES, LOS, CLASSMATES, THE, ...

Format: LP

Disc Quantity: 1
Date: 17-11-2017
Référence : 508787
Disponibilité: 2/3 SEMAINES

Prix : 17,75 EUR