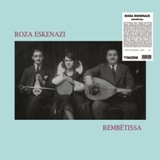 1 - ESKENAZI, ROZA - REMBETISSA - (LP)
FANTOME PHONOGRAPHIQUE

Roza Eskenazi was a giant of rembetika, the urban Greek music of Ottoman origin associated with the poor underclass. Eskenazis life was extraordinary: born Sarah Spinazi to a poor Sephardic Jewish family in Constantinople, probably in the mid-1890s, after an itinerant childhood, she began dancing at the Grand Hotel Theatre in Thessaloniki. She eloped with the wealthy Yiannis Zardinidis around 1913, with whom she bore a son, but after his untimely death in 1917, she placed the son in the care of an orphanage and moved to Athens, where she danced with Armenian cabaret artists. Eventually, the composer Panagiotis Toundas discovered her singing and arranged her first recordings for Columbia Records in 1929, which catapulted her to fame. Cutting over 500 songs in the 1930s, she became the leading exponent of the Smyrna school of rembetika. Running a nightclub in Athens during the German occupation of World War II, she hid resistance fighters and British spies and helped many Jewish families flee the country. She finally toured the USA in the 1950s, and though her career subsequently waned, a 1970s revival led to further work. The longevity of her output is such that her song Misirlu was included on the soundtrack of Pulp Fiction; the 21 gems collected here were recorded between 1931 and 1947.

TRACKLISTING: 01. Rast Gazel 02. Ousak Mare 03. Mes' Tou Zambkou Ton Teke 04. Ferte Birres 05. Aravi Ousak Manes "derti Ke Pono Apoktisa" 06. Yiati Foumaro Kokaini 07. Stamboul Ousak Maneten-by - P. Tounda 08. Hariklaki 09. Yinome Andhras 10. Konialis 11. Dhodheka Chronon Koritsi 12. Barberaki 13. Yiannoula 14. Me Zournadhes Ke Daolia 15. Yiannousena 16. "ouzo, Hasis"



Format: LP

Disc Quantity: 1
Date: 03-04-2020
Référence : 541367
Disponibilité: 2/3 SEMAINES

Prix : 21,00 EUR