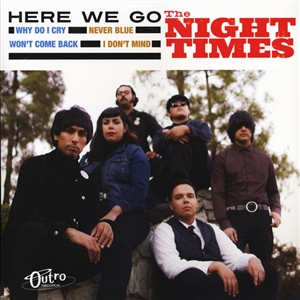 1 - NIGHT TIMES, THE - HERE WE GO - (LP)
OUTRO

The Night Times: Garage Rock Slam-Down From The Back Allies of Hollywood!Are you ready to RUMBLE!!! Here We Go is The Night Times' debut LP. The excitement created by their debut single (which sold out of print in 11 weeks) has carried over to this release 10 fold! The Night Times are being called THEE best Garage Punk band in decades and this album captures them at their gritty, hook laden best! Fans of garage rock'n'roll are very highly anticipating this album and will surely make it Outro Records' most successful record to date.

TRACKLISTING: 01. Never Blue (2:25) 02. Bad Luck (2:48) 03. I Don't Mind (2:52) 04. Sixty Nine (2:27) 05. Go Mental (2:28) 06. Charmed (2:14) 07. Why Do I Cry (3:18) 08. If You Only Knew (2:41) 09. You Don't Love Me (2:39) 10. I Need You (2:05) 11. Angel Of Love (3:03) 12. Won't Come Back (3:26)

Les personnes qui ont commandé cet article ont aussi commandé CAVEMEN, THE, LULLIES, LES, SLANDER TONGUE, BOBBY LEES, THE, ...

Format: LP

Disc Quantity: 1
Date: 12-06-2019
Référence : 535602
Disponibilité: EN STOCK

Prix : 24,25 EUR