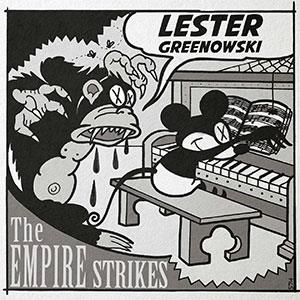 1 - GREENOWSKI, LESTER/THE EMPIRE STRIKES - SPLIT - (7")
AREA PIRATA

Our prolific collaboration with Lester Greenowski and The Empire Strikes goes on! Lester give us 2 unreleased songs where we can find all his love for Ramones punk rock and power pop, with catchy melodies!!!! He got 15 years of career, so to celebrate and support this release, it will start for a 3 weeks tour that will see him engaged in a series of concerts around Europe in his "15th Anniversary Tour".On the other side, The Empire Strikes, confirm their brilliant Scandinavian rock! Two unreleased songs as well, recorded in Magnusborg Studios in Porvoo, Finland in January 2016 : "Enter the Denim" powerful hard rock , melodies a go-go and an amazing songwriting that takes your breath away, "MS Mrs Anderson" the soul power pop walk over with a melancholy ballad that is a continuum of a sort for 1983s "The Ballad of Sailor Hawkins".

TRACKLISTING: 01. Lester Greenowski - Mantra 02. Lester Greenowski - Wasted Mary Ann 03. The Empire Strikes - Enter The Denim 04. The Empire Strikes - Ms Mrs. Andersson

Les personnes qui ont commandé cet article ont aussi commandé CONTROL FREAKS, THE, MEAN JEANS, THE, SWEET THINGS, THE, VIBRATORS, ...

Format: 7"

Disc Quantity: 1
Date: 09-08-2019
Référence : 535373
Disponibilité: EN STOCK

Prix : 8,50 EUR