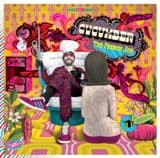 1 - CUCUMBER - THE FRENCH JOB ALBUM - (LP)
COSMIC GROOVE

2xLP limited deluxe edition. includes : gatefold cover , printed inner sleeves, high quality 180g. colored vinyls (1yellow + 1green), 16 page full color booklet 30x30cm, collectors postcard. The Cucumber is not only a vegetable, it is one of the most exciting bands that the French territory has ever known. So, get ready for lift off with its sophisticated musical cuisine and its delicious vegetable sounds! The French Job, the bands first album, is guaranteed to sweep you off down a resolutely groovy time tunnel with 16 furiously catchytracks travelling through Swinging London, breakbeat, soundtracks and funk. The 60s influenced vintage instrumentation mixed with a thoroughly modern electro pop sound may bring to mind artists such as David Holmes, Lalo Schiffrin, the KPM catalog, or early Air records.FILE UNDER: HAMMOND GROOVE - ELECTRONIC JERK - MOVIE SOUNDTRACK.

TRACKLISTING: 01. 12 Lightyears Per Hour 02. Les Tics Erotiques 03. Chris Clubber 04. Polaroïd 05. Thank You For Listening 06. Le Dodorant 07. Le Temps Des Requins 08. Sadurday DISC #2: 01. It's Hippopotime 02. Hot Pepper Soda 03. Shocking 04. Yves Emmanuel Shankar 05. Boogaloo Au Onetwotwo (bonus Vinyle) 06. 09.01.2006 (the Trap) 07. 09.01.2006 (the Chase) 08. I Thank Her Majesty The Queen 09. Malyflows Garden.



Format: LP

Disc Quantity: 2
Date: 01-07-2012
Référence : 428667
Disponibilité: EN STOCK

Prix : 33,00 EUR