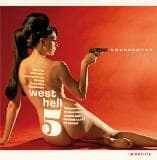 1 - WEST HELL 5 - UNDERCOVER - (LP)
HIPPO

After months of hard working and fine planning at their top-secret office, the agents of WestHell 5 are happy to announce their new album-release: UNDERCOVER (feat. 11 exciting new Mod & Crime tracks!). This special edition includes the spy-novel "The Undercover Affair" by Wilf Plum... ...and the LP comes with giant bonus poster! All tracks arranged by WestHell 5:- Ir.Vendermeulen - baritone & alto saxophone, theremin- Commander "Boobytrap" McKinnie - organ- Matvei 'Matt' Munrovski - guitar- Dr. Eric Lorenz - bass- De Pep - drums

TRACKLISTING: 01. Teen Beat (al Caiola) 02. Undercover (norbert Starink) 03. Secret Agent Man (p.f. Sloan / S. Barri) 04. Hijacked (barry Gray / John Mclaughlin) 05. Loose Ends (ronnie & The Rainbows) 06. Discotheque (keen, O'neal, Winters & Cattini) 07. Raumpatrouille (peter Thomas) 08. All About That Girl (jimmy Mcgriff) 09. Paradise Cove (ray Hunt) 10. Man From U.n.c.l.e. (jerry Goldsmith) 11. The Westhell (the Nilsmen)

Les personnes qui ont commandé cet article ont aussi commandé BEEN OBSCENE, QUEENS OF THE STONE AGE, ANACONDAS, SKURKARNA, ...

Format: LP

Disc Quantity: 1
Date: 19-05-2012
Référence : 426801
Disponibilité: EN STOCK

Prix : 15,00 EUR