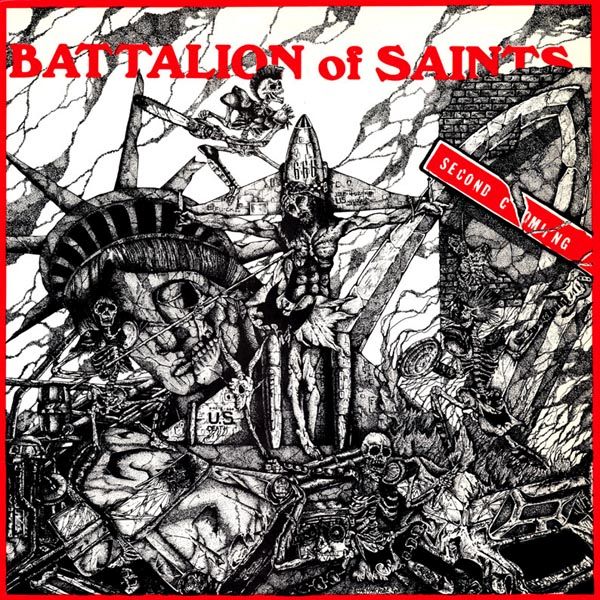 1 - BATTALION OF SAINTS - SECOND COMING - (CD)
TAANG

Battalion of Saints is the bastard child of Motorhead and Black Flag - taking the driving rhythm and attitude of the former and the angry nihilism and paranoia of the latter. While perhaps not as influential of either of those two bands, Battalion of Saints can hold their own and this record earns them their place among the best American hardcore bands of all time. The musicianship is perfect, from tension-building drum intros to "Animal in Man" and "No Time" to Chris Smith's Ginn-esque guitar leads. George Anthony sings like he's being dragged, kicking and screaming, to the pits of hell for an eternity of torture and damnation. Their "Ace of Spades" cover is the fucking icing on the cake. An underrated classic. This version on TAANG! will contain extra tracks from the NYC sessions of 1985. (taken from Kill From The Heart ).

TRACKLISTING: 01. My Minds Diseased 02. Animal In Man 03. Right Or Wrong 04. Holy Vision 05. Buddies And Pals 06. No More Lies 07. Second Coming 08. Beefmasters 09. No Time 10. Too Much Fun 11. Intercourse 12. Solitary Is Fun 13. Fair Warning 14. Doomed World 15. Ace Of Spades(mottrhead) 16. My Minds Diseased 17. No More Lies 18. Fair Warning 19. Second Coming 20. Doomed World 21. Cops Are Out 22. Fighting Boys 23. Right Or Wrong 24. Animal In Man 25. Modern Day Heroes 26. Buddies And Pals 27. Animal In Man 28. Modern Day Heroes 29. Buddies And Pals 30. Holy Vision 31. I Wanna Make You Scream 32. Beefmasters 33. Intercourse 34. Solitary Is Fun 35. Ace Of Spades 36. New Rose (damned)

Les personnes qui ont commandé cet article ont aussi commandé SHEER TERROR, NOFX, DEAD KENNEDYS, BANTAM ROOSTER, ...

Format: CD

Disc Quantity: 1
Date: 01-05-2012
Référence : 420116
Disponibilité: 2/3 SEMAINES

Prix : 13,75 EUR