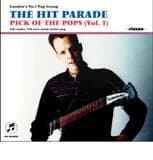 1 - HIT PARADE - PICK OF THE POPS - (CD)
INDEPENDENT

A swish new compilation CD, featuring twenty of the most memorable songs in the career of the top notch indie band THE HIT PARADE. Optimistically entitled 'PICK OF THE POPS (VOL1)' the new CD represents the most poignant moments in the colourful life of THE HIT PARADE, and includes their thoughtful recording for Sarah Records "In Gunnersbury Park", their tub thumping single for Minty Fresh USA "Hitomi" as well as other singles, both cheerful and desolate in style, that feature CATH CARROLL (Factory Records), AMELIA FLETCHER (Heavenly and Tallulah Gosh) and HARVEY WILLIAMS (Another Sunny Day and The Field Mice.THE HIT PARADE is the nom de guerre of JULIAN HENRY, who formed this band with his school friends Matt Moffatt and Raymond Watts in 1984. In refusing to acknowledge the passing of time, they have clung to the sensibilities of pure pop with impressive tenacity and have earned the begrudging respect of the London and Los Angeles indie world as the last remaining flag bearers of the twee and the C86 music scene; their first singles in the 1980s were lauded by John Peel, the NME and Melody Maker. In the 1990s the band toured alongside Sarah Records notables and signed to Japanese and US labels, releasing a sequence of albums that have been unavailable on CD for over fifteen years. More recently, their last two 7" vinyl single releases were declared 'a bona fide smash' and 'one of the best singles of 2010' by Drowned In Sound.Today the Hit Parade has a dedicated and almost invisible fan base that stretches from the Far East (where they have toured several times) to the west coast of America, and this is their sixth album. The band is currently working on a new LP about life in West Cornwall, UK which is scheduled for 2013 release.

TRACKLISTING: 01. The First Time 1992 02. You Didn't Love Me Then 1985 03. The Boy Who Loves Brighter 2011 04. In Gunnersbury Park 1991 05. The Sun Shines In Gerrards Cross 1985 06. In My Arms 2003 07. House Of Sarah 1994 08. The Queen Of Mousehole 2006 09. Huevos Mexicana 1985 10. On The Road To Beaconsfield 1994 11. Sugar 2006 12. Hitomi 1991 13. My Favourite Girl 1984 14. Hello Hannah Hello 1994 15. I Like Bubblegum 2010 16. As I Lay Dying 1994 17. See You In Havana 1985 18. Christmas Tears 1990 19. My Stupid Band 2006 20. Autobiography 1994

Les personnes qui ont commandé cet article ont aussi commandé BIRTHDAY SUITS, BORN LOSERS, PREVOST, GREG "STACKHOUSE", ...

Format: CD

Disc Quantity: 1
Date: 24-09-2012
Référence : 429591
Disponibilité: 2/3 SEMAINES

Prix : 15,25 EUR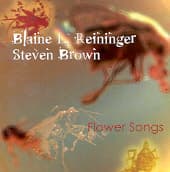 2 - REINIGER, BLAINE L. -& STEVE BROWN- - FLOWER SONGS - (CD)
INDEPENDENT

Recorded live in Mexico (at the prestigious concert hall, la Sala Nezahualcoyotl in Mexico City) by the two founding fathers of TUXEDOMOON, in 1993. The fourteen compositions are the fruit of over a decade of the two musicians working together; seven of the tracks appear here for the very first time on disc. TRACKLISTING: 01. ELEPHANTS (1:22) 02. VIOLORGANI (5:21) 03. GHOST SONATA (5:45) 04. AFFAIRE AT THE SOIREE (2:45) 05. 39 SUMMERS (5:54) 06. 7 NIGHTS (4:20) 07. PARIS (2:36) 08. OMBRES CHINOISES (2:50) 09. VIEUX BOULEVARDIER (3:30) 10. TWO PIZZICATTI (2:22) 11. GOLEMS & GRISATRE (3:00) 12. PLEASURE (4:03) 13. VOGUET (8:32) 14. TARANTELLA (6:25).



Format: CD

Disc Quantity: 1
Date: 08-08-2006
Référence : 363485 NEW
Disponibilité: 2/3 SEMAINES

Prix : 13,75 EUR