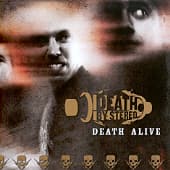 1 - DEATH BY STEREO - DEATH ALIVE - (CD)
REIGNITION

Death By Stereo (Epitaph, Indecision) is one of the best hardcore/punk bands in the world, plays a rowdy show in their home base of California and shows how much aggression one bandcan pack in a live rock show. TRACK LIST:1. The Plague2. BeyondThe Blinders3. Lookin Out For #14. These Are A Few of My FavoriteThings5. Sow the Seeds6. WastedWords7. Sing Along WithThe Patriotic Punks8. Shh. this Will Be Out Little Secret9. DesperationTrain10. Let Down And Alone11. Holding 60 Dollars On A Burning Bridge12. High SchoolWas Like Boot Camp For A Desk Job13. Emo Holocaust14. Dance Party15. Unstoppable16. No Shirt, No Shoes, No Salvation17. No Cuts, No Butts, No Coconuts.

Les personnes qui ont commandé cet article ont aussi commandé GREEN TELESCOPE, THE, VARIOUS, WILLIE & THE BOP-A-WHILES, ...

Format: CD

Disc Quantity: 1
Date: 13-03-2007
Référence : 369878
Disponibilité: EN STOCK

Prix : 7,50 EUR