1 - VARIOUS - GUITAR MASTERS, VOL. 2 - (CD)
BHP MUSIC

An extraordinary collection of hard to find tracks including the 1970 original track from Jimmy Page and Lord Sutch and an alternative 1969 version of the classic track Jingo from Santana stretched to a rockin 9 minutes which features the up and coming talents of keyboardist Greg Rolie of Journey. Also contains a fantastic version of BB King performing his classic Paying the Cost to Be the Boss. Plus a shredding version of the Van Halen classic song Light up the Sky featuring Yngwie Malmsteen and Billy Sheehan.



Format: CD

Disc Quantity: 1
Date: 14-04-2009
Référence : 395932
Disponibilité: EN STOCK

Prix : 7,50 EUR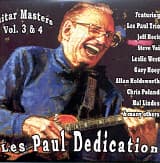 2 - VARIOUS - GUITAR MASTERS, VOL. 3 & 4 - (CD)
BHP MUSIC

An extraordinary 2 CD collection of new recordings & rarity tracks, including the 1940s "Why Do I Love You" original track from Les Paul & His Trio and the little known track "Gutty Guitar" featuring Jeff Beck with Lord Sutch from the Jimmy Page produced sessions "Lord Sutch & Heavy Friend". The CD also features a spectacular track from the Grammy Award winning guitarist Steve Vai. Plus a killer version of the Led Zeppelin classic "Moby Dick" performed by Leslie West and a shredding version of the Jeff Beck masterpiece "Blue Wind" from bass extraordinaire Billy Sheehan. In addition, Volume 4 features new recordings by guitar virtuoso Gary Hoey performing the Jeff Beck classic, "El Becko". This is Garys first new recording in over 4 years. Hoey has sold over 400,000 CDs in his career on Reprise in the 1990s. Alan Holdsworth, Frank Gambale (Chick Corea), Chris Poland (Megadeth), Alex De Rosso (Dokken) & Hal Lindes (Dire Straits) all grace the guitar on new recordings to celebrate the genius of Les Paul. Many of the tracks were recorded, produced & engineered by Brian Tarquin, Emmy Award winning guitarists/composer from Jungle Room Studios. New York oil painter Todd Doney was commissioned to do the cover. The original painting will be framed and signed as a promotional giveaway.



Format: CD

Disc Quantity: 2
Date: 01-06-2010
Référence : 407105
Disponibilité: EN STOCK

Prix : 13,75 EUR