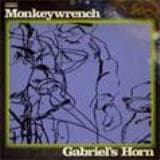 1 - MONKEYWRENCH, THE - GABRIEL'S HORN - (LP)
BANG!

Seattles finest garage icons: Mark Arm (MUDHONEY, BLOODLOSS), Steve Turner (MUDHONEY), Tim Kerr (BIG BOYS), Martin Bland (BLOODLOSS), Tom Price (U-MEN). Finally release on vinyl their 2000 recorded 3rd album by MONKEYWRENCH. "Gabriels horn" follows the sound of Monkeywrenchs seminal 1st album where Mudhoneys classic grunge sound meets the bluesy garage sounds and psychedelic trips of 13th Floor Elevators. Released on heavy vinyl and with fully detailed artwork, this album comes to remind us the evil sonic sounds of the Seattle scene, as present now as it was 20 years ago.

TRACKLISTING: 01. Low On The Air 02. Pray Til You Sweat 03. Thats What You Get 04. Gabriels Horn 05. Sunnyland 06. Crystal Brown Vibrations 07. Levitation 08. Black Plastic Tarp 09. Flashy New Dance Steps 10. Echo Canyon Expres 11. Gabriels Horn (slight Return) 12. He Stopped Love Her Today 13. On Your Arrival

Les personnes qui ont commandé cet article ont aussi commandé ADAMYK, STEVE -BAND-, SPEEDBUGGY USA, TEENAGE BOTTLEROCKET, ...

Format: LP

Disc Quantity: 1
Date: 01-07-2012
Référence : 428358
Disponibilité: EN STOCK

Prix : 18,00 EUR