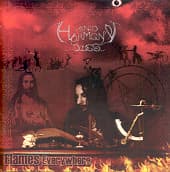 1 - AND HARMONY DIES - FLAMES EVERYWHERE - (CD)
MY KINGDOMMUSIC

This is a shocking form of entertainment. The whole album is built on a concept narrated, whispered and hollered from the depths of hell and everything is conceived in order to represent the kaleidoscope of influences and evolution of the band. It is highly reccomended to fans of bands such as Devil Doll, Arcturus, Limbonic Art. There aren't any musical genres which could describe "Flames Everywhere" apart from Eclectic Avantgardish Metal.



Format: CD

Disc Quantity: 1
Date: 20-09-2007
Référence : 378611
Disponibilité: EN STOCK

Prix : 12,75 EUR
2 - AND HARMONY DIES - TOTENAMT - (CD)
SLIPTRICK

And Harmony Dies can be defined as a sort of Black Metal moving towards all other metal nuances such as: Doom, Death, Thrash and Heavy with much suffering and agonizing lyrics.



Format: CD

Disc Quantity: 1
Date: 22-12-2017
Référence : 510065
Disponibilité: EN STOCK

Prix : 14,00 EUR