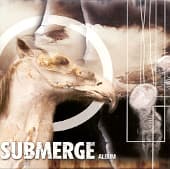 1 - SUBMERGE - ALBUM - (CD)
THRONE

This cd compiles all the studio songs to date plus some unreleased stuff from this French hardcore outfit. Their music is very modern, chaotic, sludgy, dark and technical metal/hc. A brutal mixture of Nostromo, Coalesce and the later-days Napalm Death!



Format: CD

Disc Quantity: 1
Date: 01-05-2003
Référence : 344431 NEW
Disponibilité: EN STOCK

Prix : 12,75 EUR
2 - SUBMERGE - SUBMERGE - (12")
DESTRUCTURE

The first SUBMERGE lp is finally out ! It's a corelease with Abstraction from Cherbourg. The lp contains 8 songs recorded in fall 2005. The band still plays the same kind of music but in a more extreme way. Expect something heavy, dark and chaotic ! The artwork has been made by Oli from Ttdmrt and the lp comes with a poster by Mike Bukowski.



Format: 12"

Disc Quantity: 1
Date: 30-11-1999
Référence : 428437 NEW
Disponibilité: 2/3 SEMAINES

Prix : 12,50 EUR